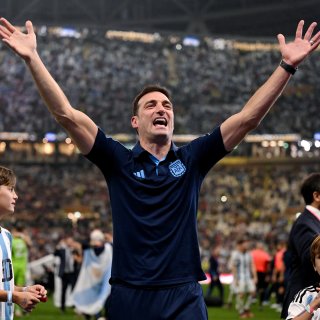 When Lionel Scaloni, the young national coach of the brand new world champion Argentina, was appointed in 2018, he did not exactly have Diego Maradona's blessing. "He's a great kid, but he can't even direct traffic. How can you give the national team to Scaloni? Are we all crazy? It's way too big for him, it's like Minguito Tinguitella in Gordo Porcel's suit," said El Diego.
Porcel and Tinguitella are a comic duo, an Argentinian Laurel and Hardy, so to speak. Porcel is the thick one.
Jorge Valdano, the intellectual in the 1986 World Cup squad, also spoke of a "talent crisis" and "a lack of leadership and patience" in the Argentina squad. "So many things are wrong. Not even a genius can make up for that."
That genius is of course Lionel Messi, who has been trying since 2005 to help Argentina to a top prize and thus step out of the shadow of Maradona. Reputable trainers had tried, even reached finals. But in 2018, a promising generation, with top attackers such as Higuaìn, Aguëro and Di Maria in addition to Messi, and many big names behind them, seemed doomed to a titleless existence, at least in terms of country football.
The 2018 World Cup was a swan song. Argentina survived the group stage with hanging and strangling, only to be eliminated by France in the eighth finals. It seemed the last chance for Messi, then 31. He then made himself unavailable.
Intermission

After the dismissal of national coach Sampaoli after that World Cup, his assistant Scaloni was appointed as an interim pope. Scaloni was just 40 years old and had never been a head coach. The former water carrier of Deportivo La Coruña, West Ham United, Lazio and Atalanta came to seven international matches. He probably wasn't even the first to call the Argentine Football Association for the interim job, he readily admits. He said goodbye to some big names and tried out countless players, looking for the dream combination: players who know what to do with the ball, and who 'grow' like a vicious dog in the Argentinian shirt. So that the new national coach had something to build on. But that new national coach was not found, so Scaloni stayed on.
In a video call, he convinced Messi to return, with the presence of assistant Pablo Aimar in that conversation probably being crucial. Aimar was Messi's childhood idol. The curtain seemed to fall quickly after Brazil's elimination in the semi-finals of the 2019 Copa America. But Messi fully supported the tactically versatile and communicative Scaloni, who involves his players in every decision.
Argentina did not lose a game after that until the World Cup. Winning the Copa America in 2021 felt like a liberation. But after losing to Saudi Arabia in the first group match (2-1) of the World Cup, the 'simple farmer' Scaloni had to give way as quickly as possible, according to many Argentines.
Simple life

'Simple farmer' is a name that Scaloni uses for himself, because of his childhood in the agricultural village of Putajo. He is proud of it, because he learned that a simple life is not so bad. "You wake up at 6am, check the cows are okay, there are no bugs on the crops, walk through the sunflower and wheat fields, go home, eat, siesta, go back, do it again. Maybe it's in how you deal with people: simple, nothing strange, telling it how it is."
He remained calm, even after the embarrassing loss to the Saudis that put the pressure on. "The sun always rises the next morning," he told his players.
A temperamental but moderately gifted footballer, he had learned that lesson in his year at West Ham United, where he was on trial in 2006, but was immediately allowed to leave when he badly cleared a ball in the final seconds of the FA Cup final, resulting in Liverpool could still score. Partly because of this, West Ham United missed out on the first prize in 26 years.
Scaloni struggled mentally but still played at the 2006 World Cup despite a serious thigh injury. "I actually played on one leg."
Argentinian boy's dream

He wants to see that mentality reflected in his selection. Players like De Paul, Paredes, Acuña, Molina, Martinez, Alvarez, Di Maria and MacAllister had to give up their typically Argentinian boyhood dream of becoming the next Messi, Maradona or Batistuta to serve Messi. They had to be able to play in different systems, sit on the couch without a murmur, then throttle back for 120 minutes so the genius could do its thing. "They have to be willing to break their backs," Scaloni said.
Everything came together in the final against the favorite France. Midfielder De Paul was the epitome of intransigence and versatility in one. Striker Alvarez single-handedly chased the entire French defense. Despite injury problems, Di Maria played at full speed for more than an hour in the left wing position, which is unusual for him, completely disrupting France.
Scaloni shed tears afterwards and thanked his parents. "They taught me my attitude to life: never hang your head. Never go against anyone. Always keep positive."