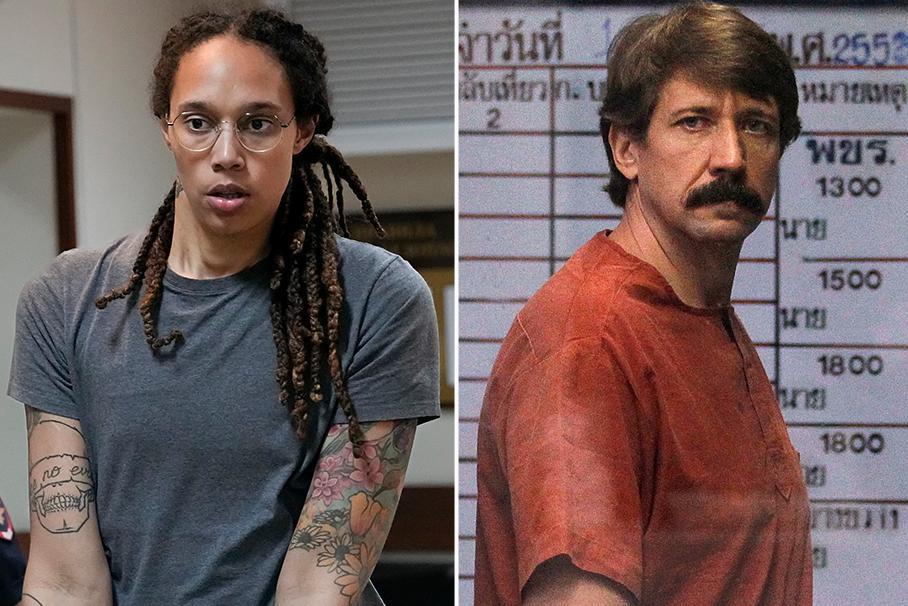 Russia and the United States have conducted a prisoner exchange. The basketball star Brittney Griner (32) was replaced by the notorious Russian arms dealer Viktor Bout (55). This is confirmed by the Russian Ministry of Foreign Affairs and US President Joe Biden.
"A few moments ago I was talking to Brittney Griner. She's safe. She's on a plane. She's on her way home." That's what US President Joe Biden tweeted Thursday afternoon after news broke that Griner is no longer in a Russian prison.
Griner was sentenced in Russia in August to nine years in prison and a fine of 1 million rubles (about 17,000 euros) for possession and smuggling of hashish products. She was charged with possessing and smuggling drugs after she was caught with cannabis oil at Moscow airport shortly before the Russian attack on Ukraine.
This contains embedded content from a social media network that wants to write or read cookies. You have not given permission for this.
According to the Russian Foreign Ministry, Griner was traded for Russian arms dealer Viktor Bout.
Bout, nicknamed "the dealer in death", was one of the most wanted arms dealers in the world until his arrest in Thailand in 2008. He took advantage of the fall of the Soviet Union to supply cheap weapons to dictators, rebels or terrorists. Bout was extradited from Thailand to the US and sentenced to 25 years in prison for supplying weapons to guerrillas in Colombia. The Russian authorities have long been trying to get the man, who was still a soldier in the Russian Air Force, back to Russia. Bout also has a link with our country: he operated from Ostend for a while.
Keep negotiating
US President Joe Biden gave a speech on Thursday following Griner's release. "Brittney will soon be back in the arms of her loved ones, where she should have been all along. We never stopped pushing for her release. It was a difficult negotiation and I want to thank everyone who worked on it," he said. "These past few months have been hell for her and her family. People all over the country have sympathized with her story and stood by her through this terrible ordeal. She is happy that she can finally go home. She lost months of her life and experienced unnecessary trauma."
Biden also spoke briefly about other Americans who continue to be "unjustly detained." For example, he referred to Paul Whelan, a former US naval officer who has been imprisoned in Russia for years. According to Biden, it was not a choice to bring Griner home instead of Whelan, for example. "Paul's case is treated differently by the Russians." But he stressed that the United States will not give up and will continue to negotiate. "We will continue to work until all Americans are safely home."
(sgg, wver, jvh)