Published:
21 Dec 2022 12:46 GMT

The authorities asked citizens "to be especially careful and plan their activities" in case the availability of ambulances is affected.
Paramedics and emergency personnel in England and Wales announced a strike for Wednesday after the government and unions failed to reach an agreement on pay increases.
Following a meeting on Tuesday afternoon between Britain's Health Secretary Steve Barclay and union bosses from GMB, Unite and Unison, a spokesperson for the workers said it was "useless" to talk as Barclay "refused to speak about salary", collect skynews.
For his part, Barclay called the strike "deeply unfortunate". In this sense, he called on citizens "to be especially careful and plan their activities accordingly."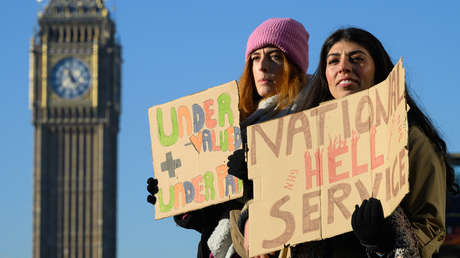 "Our ambulance crews are incredibly dedicated to their work and it is deeply regrettable that some union members are going ahead with the strike. My number one priority is keep patients safe"he said in a statement. aforementioned by local media. In addition, he reported that the National Health Service (NHS) will give priority to people with life-threatening needs.
Meanwhile, the unions indicated that during the strike, ambulance workers will continue to attend category 1 calls (most of which imply a risk to the lives of patients, such as cardiac arrest) and category 2 (serious conditions, such as a stroke). stroke or chest pain). However, they accused the government of put people's lives at risk by refusing to enter into an agreement regarding wages.
For his part, Matthew Taylor, chief executive of the NHS Confederation, which represents the majority of NHS organizations in England, wrote Prime Minister Rishi Sunak in a last-minute attempt to avoid today's strike. Taylor warned the head of the British Government that they are "entered into dangerous territory", urging him to intervene to put an end to the problem.
Barclay acknowledged that NHS staff are facing "difficult times", however he insisted that raising wages would divert resources from front-line services. He recalled that the Government has accepted the recommendations of an independent wage review body that awarded a salary increase per year of at least £1,400 ($1,704), which equates to a 4% increase, well below staff demands.
Thousands of nurses carried out the second strike this month on Tuesday, to demand a salary increase of 17.6%, compared to the high inflation that reached 10.7% in November.
With strikes scheduled for the days before Christmas, the UK government opted to deploy 1,200 military personnel to support various emergency services and guard the borders.