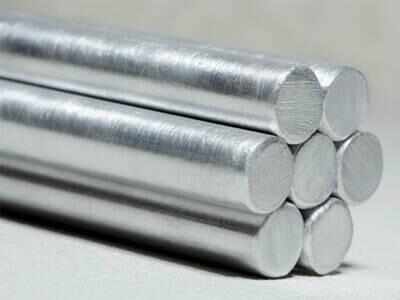 By Kaynat Chainwala
Aluminium, the best performer of 2017 on a year to date basis; however seems to have run out of luck in June as it is the only base metal on the losing side.
Aluminium prices on the LME and MCX have plunged by 2.5 and 1.8 percent respectively on a month-to-date basis as against a surge of 11 and 4 percent on a year-to-date basis.
Average Aluminium prices have slipped to $1893.5/t so far in June'17, lowest since Feb'17, all thanks to falling coal and crude oil prices since the light metal industry is highly energy intensive. Currently, Crude oil prices are languishing near nine-month lows hit by a double whammy of recovery in OPEC output in May'17 coupled with rising US production. While on the other hand, cooking coal prices are hovering near one year lows in China despite rising imports from China.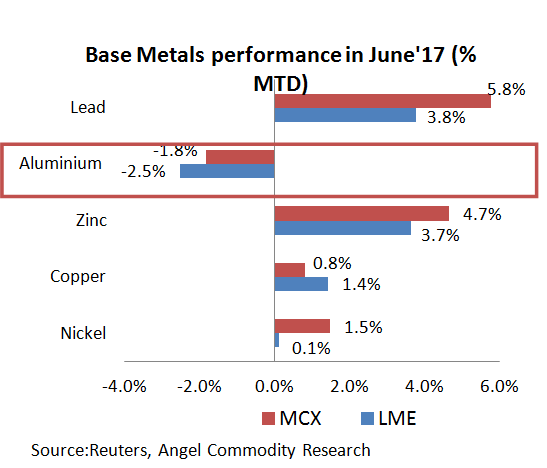 Amidst such cost pressure, China's primary aluminium production shows no signs of slowing down as it jumped by 6 percent to 2.825 million tons in May'17 compared to the same month last year, as per the International Aluminium Institute. During the first five months of 2017, the country's primary aluminium production reached 13.782 million tons, a rise of 11 per cent compared to the corresponding period of last year.
As a result, China exported 460,000 tonnes of unwrought aluminium and aluminium products, including primary, alloy and semi-finished aluminium products, in May, up from April's 430,000 tonnes.
The excess Chinese supply can also be seen hoarded at the Shanghai warehouse. Aluminium stocks in warehouses monitored by the Shanghai Futures Exchange currently at 433,110 tonnes have surged more than four times from January's average of 113,495 tonnes.
Global production for May'17, excluding China, was 2.32 million tonnes, up from 2.26 million tonnes in April'17 while daily average primary aluminium output excluding China fell to 70,000 tonnes in May, from 70,300 tonnes in April.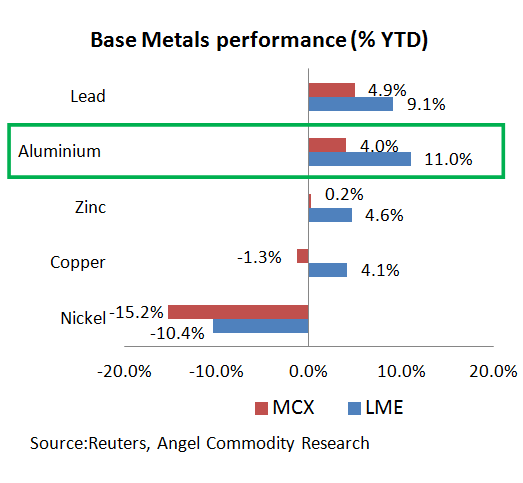 Adding to the supply woes, Russian aluminium giant Rusal announced plans to boost its production by 19 percent from 2016 levels to 4.4 million tonnes by 2021 as it expected global demand for aluminium to grow by 4 to 5 percent per year until 2021 amid higher demand for "green" aluminium and advanced alloys.
The mining giant added global demand for primary aluminium is expected to rise by 13.5 million tonnes over the next five years to 73.2 million tonnes.
However, all is not lost as demand side is still going strong as Chinese primary Aluminium imports jumped further in May'17 to 8917 tonnes and surged by a whopping 187 percent to 60,426 tonnes in the first five months of 2017. Chinese Alumina imports however fell by 20 percent in May'17 after a whopping 146 percent surge in April'17 and are down by 13.5 percent on a year to date basis.
Also, latest numbers from World Bureau of Metal Statistics showed the primary aluminium market balance for January to April 2017 witnessed a deficit of 683 kt following a shortfall of 1096 kt recorded for the whole 2016.
Demand for primary aluminium for the first four months of 2017 was 20.35 million tonnes, 1580 kt more than the first four months of 2016. Total stocks held in the four exchanges in London, Shanghai, USA and Tokyo were 20,59,000 tonnes at the end of April 2017, 266,000 tonnes below the December 2016 total.
Although rising Chinese supplies and falling input costs pose a threat to the light metal, strict crackdown on illegal smelting capacity promised by the Chinese government and latest reassurance by China Non-Ferrous Metals Industry Association on the same will likely provide a cushion. So, we expect Aluminium prices to trade higher towards Rs.127-130/kg mark in the near term. (CMP: Rs.120.7/kg)
(Kaynat Chainwala is Research Analyst- Base Metals at Angel Broking. Views expressed in this column are her own and do not represent those of ETMarkets.com. Investors should consult their financial advisers before taking any investment calls based on this article)




Source: auto.economictimes.indiatimes.com