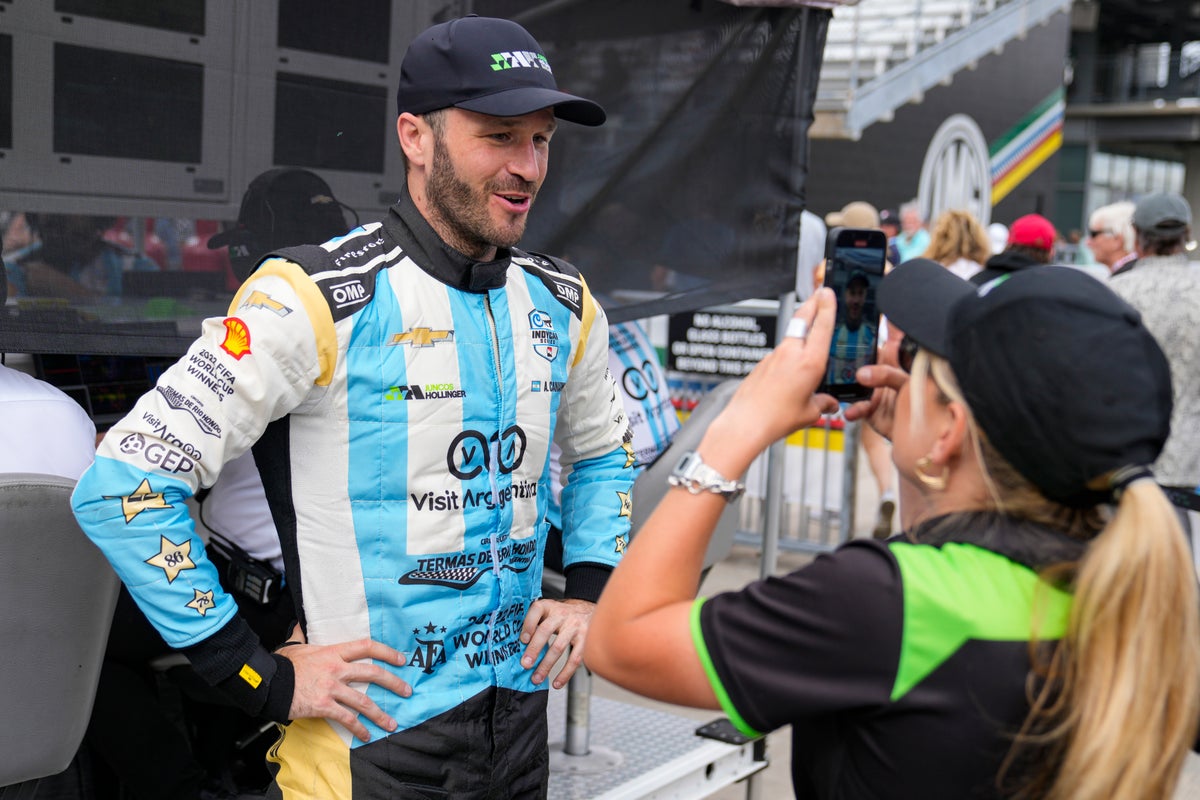 The immense popularity that Agustín Canapino, a driver in the Indianapolis 500, enjoys in his native Argentina cannot be underestimated. This must be taken into account. Five years ago, when competing in his country's road tourism championship, Canapino was recognized with the Olimpia de Oro award as the best athlete in Argentina, surpassing neither more nor less than Lionel Messi.
The pride of Arrecifes —- a small town of 25,000 inhabitants that has been the birthplace of Formula One drivers such as José Frilán González and Norberto Edgardo Fontana – has won more than 100 races and 15 titles in various domestic series. His name is frequently in the news, he is also massively followed on social networks and even the name "Agustín" has been a trend for newborns.
"It's not me being like Messi, of course. Soccer is the most important sport in my country," Canapino told Associated Press on a quiet Tuesday at the Indianapolis Motor Speedway, where he was taking part in some traditional rookie events like milking a 2,000-pound cow.
"But motor sport," continued Canapino, "is very, very important in Argentina. We have a lot of fans, and also a lot of people are rooting for me. There are people who have tattoos with my name, and they name their children after me. That makes me proud."
Imagine how proud they'll be if he wins the Indy 500 this Sunday.
It will not be an easy task. Canapino competes for one of the smaller teams, Juncos Hollinger Racing, which had a hard time generating speed last week. Even his teammate Callum Ilot had to replace the chassis one day before qualifying because he didn't feel "safe" in the car. But both drivers set fast enough times on Saturday to avoid the stress of seeking qualifying on Sunday.
However, just being on the 33-car grid and competing in the so-called "Greatest Show in Motorsport" can be considered a victory.
Canapino believed that his career was going to be limited to being a driver of modified stock cars in Argentina, although he had the experience of driving a sports car in the 24 Hours of Daytona. But at the end of last year, Ricardo Juncos — the owner of the team — organized an exhibition in Buenos Aires and asked Canapino to get behind the wheel.
When Canapino completed a few laps at the Autodromo de Buenos Aires in November, it was the first time an IndyCar had lapped in Argentina since Al Unser won the Indy 300 at the Autodromo Ciudad de Rafaela in 1971. Canapino also did a few laps at the Circuito de Buenos Aires. Termas de Río Hondo, and his displayed speed convinced Juncos to give him a chance as a full-time driver.
Upon his arrival in the United States, Canapino did not know a shred of English, but he understood that he needed to be able to communicate with the team's engineers. Through classes with a tutor, watching movies and the help of an app installed on his phone, he learned to communicate fluently in three months.
His learning has been just as fast in the car that will wear the colors of the Argentine national team this Sunday. Canapino finished 12th in the season opener at the street course in St. Petersburg, Florida, and also finished 12th in his oval debut at Texas.
He has also had his problems like that confusing accident he suffered in the Long Beach race. As Ilott exited the pit lane in front of Canapino, forcing Helio Castroneves to perform an aggressive maneuver in front of both. Castroneves and Canapino ended up colliding, and many of the Argentine's 115,000 supporters in Twitter They lashed out at their partner for crossing the track and causing the collision.
Canapino had to ask them to stop the insults.
The support is understood. Apart from the consecration of the selection in the World Cup in December, Argentina has not had much to celebrate, in the midst of a severe economic crisis. This same month, the Central Bank raised the interest rate for fixed terms to 97% per year to combat inflation.
"We have a lot of people who are out of work," Canapino said. "Hungry people. The economy is a mess. It is very difficult to live in Argentina, a pity because we have a very beautiful country. It makes me happy to be able to do this for them."
Canapino is the fourth driver from Argentina to qualify for the Indy 500, and the first since Raúl Riganti crashed in 1940. The legendary Juan Manuel Fangio, five-time F1 champion and considered the best Argentine driver in history, arrived with a great fanfare in 1958, but had to drop out before qualifying due to his car not reaching the required speed.
"I think the least we can do is give people a smile, because a lot of people are suffering, especially right now," Canapino said. "I have a decent position for the start. My car is in good condition. But the first thing will be to cross the finish line. Our goal is to get the best position possible."