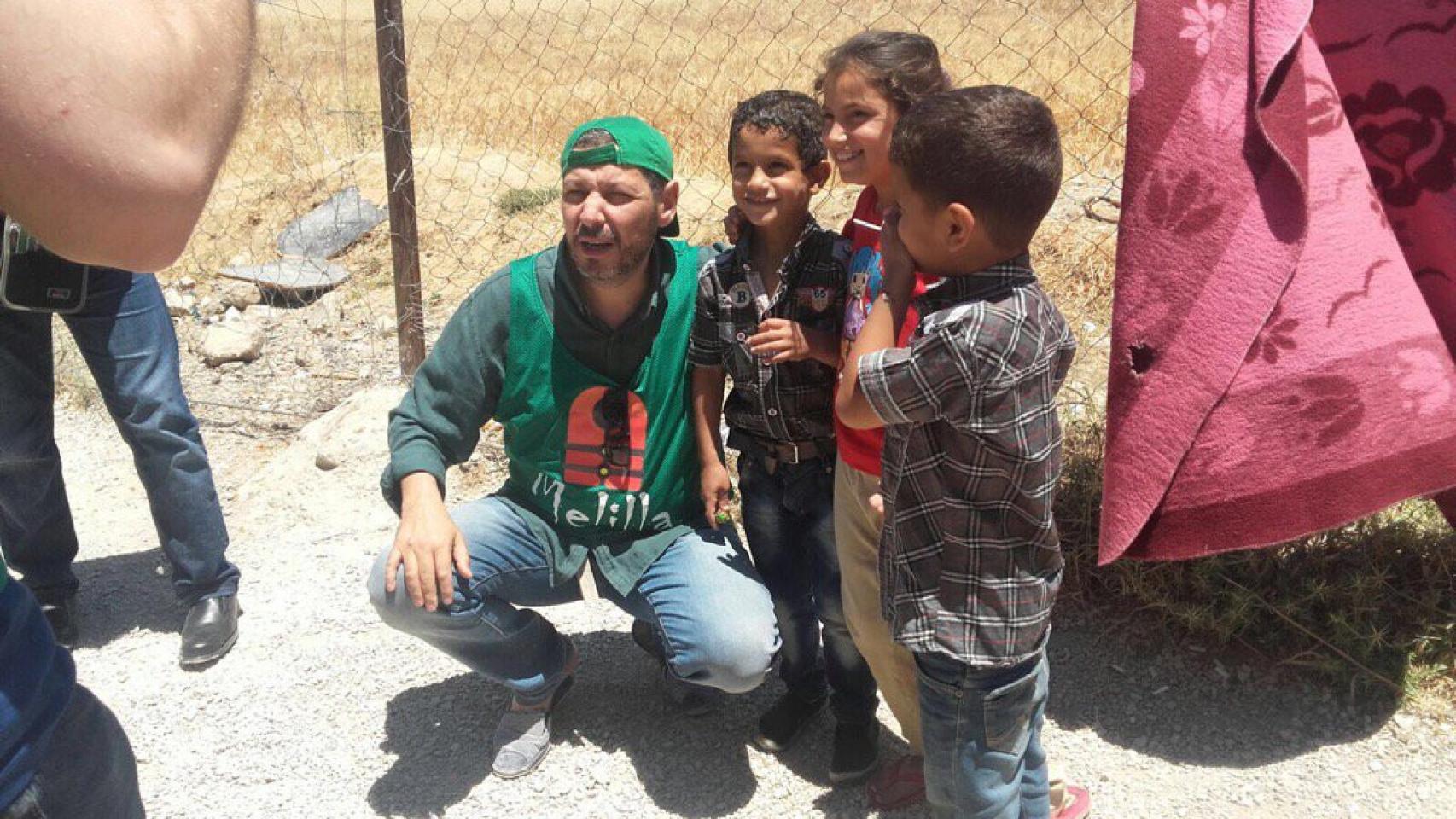 The evolution of the police investigation against the plot that is allegedly behind the vote-by-mail fraud in Melilla for this 28-M it is not leaving room for too many surprises. This Monday, the National Police detained 6 people, and another 3 on Tuesday. One of them is number 3 of the Coalition for Melilla (CpM) candidacy and current councilor for Districts in the Government in coalition with the PSOE in the Government of the Autonomous City, Mohamed Ahmed Al-Lal. The other name that has transcended is that of Abdelilah Nasiriknown both by his nickname, Abdul the Wolf as for being the son-in-law of Mustafa Aberchanthe president of the CpM and who was already sentenced for document falsification and two electoral crimes in 2008 for buying votes by mail.
The wolf He is the husband of one of the three daughters that Mustafá Aberchán had with his wife, Zahra. "The wolf He is Aberchán's trusted man, but he has the intelligence of a walnut. He is uneducated and dangerous. He is known throughout Melilla for his violent altercations, like the one he starred in at the fair, when he came to exclaim the typical you don't know who my father in law is", specifies a source of all solvency consulted to EL ESPAÑOL.
"He has no known job. He is supposed to be the one who went to all the councils that the CpM manages, collecting money from projects and things. He had a lot of powerbefore the directors and everything, always asserting his status as Aberchán's son-in-law", specifies another source who also prefers to remain anonymous.
[Melilla, la ciudad de los 'pucherazos': de repetir elecciones en 1989 a robar votos en 2008 y 2023]
He in-law is Mustafá Aberchán, and for accumulate all that power in Melilla despite having been sentenced to two years in prison and disqualified for trying to fraudulently win the elections in 2008, it is necessary to tell his story.
He was born 63 years ago in the Monte María Cristina neighborhood of Melilla in the bosom of a Moroccan family that ran a grocery store. she agreed to Spanish nationality at age 27in 1987, after the regularization process carried out in Ceuta and Melilla by the Government of Felipe González.
He studied high school at the Colegio del Carmen, in Melilla, run by the De La Salle Brothers. He then studied medicine in Granada thanks to a Moroccan government scholarship. There he met his wife, born in Larache, and also graduated from the same Faculty. Later, Aberchán specialized in Digestive Surgery "but he did not do it with the MIR: he did it through an agreement between Spain and Morocco that no longer exists," says another source.
[La Policía detiene al yerno de Mustafá Aberchan y a un consejero de CpM por el fraude de votos en Melilla]
Until 1994 he practiced as a surgeon at the Regional Hospital of Baza, but the Moroccan government agreement expired and since then legally prevented him from continuing to practice as a surgeon in a Spanish public hospital. Thus returned to Melilla in 1995, where "he was nothing known", and he opened a private practice in which he could only perform minor surgical operations. He also operated sporadically in a hospital in Nador.
In Socialist Youth
He always liked politics and He became a member of the Socialist Youth. Two of his brothers, Benaisa and Aisha, were affiliated with the PSOE, and Benaisa had even been a representative in the Melilla Assembly for the socialist party. But the Islamic sector of the party split, and for this reason in 1995 he founded the Coalición por Melilla. Already in the elections of that year it becomes the third political force in its Assembly. In 1998 it became Environment Counselor thanks to a motion of censure presented by a mayor who had abandoned the PP, the support of the PSOE and the votes of the CpM.
In 1999 another carom of fate would make him president of the Autonomous City with the support of the Independent Liberal Group of Jesús Gil and two deputies of the PSOE, who ignored the orders given by Joaquin Almunia from Ferraz so that there would be no pacts with the GIL or with the CpM.
His ties to the PSOE acquired criminal overtones -common- in 2008. They attended those elections in coalition he PSOE and Coalition for Melilla (CpM). Letters were sent on INEM letterhead promising jobs in exchange for the vote. "People went with the INEM letter, they handed in their votes at the headquarters of both parties and the parties left them at the Post Office." That resulted in 18 convictions from both parties for crimes of falsehood and electoral fraud. Among them, the sentences to 2 years in prison and 30 months of disqualification for the Secretary General of the PSOE of Melilla, Dionisio Muñozand others 2 years in prison and 30 months of disqualification for aberchán. Aberchán's disqualification expires in August, and therefore he cannot run as a candidate in these elections.
"He is a very false person, you cannot be calm with him because you know that he is going to play you. And he is a fox who knows how to handle the ignorant masses. In Melilla as a messiah: a doctor is a demigod," another source told this newspaper.
He has alternated politics with the practice of medicine. He is a surgeon at Ingesa, the National Institute of Health Management which depends on the Ministry of Health and which manages the public health provision of the autonomous cities of Ceuta and Melilla. He lives in a chalet near the border, built by him on land he bought for it.
"Here we all know that it's a fifth columnist. It was not normal, when the borders were open, the flow of patients who came from Morocco looking for him to operate on them at the Hospital". leave the other surgeon in charge."
"Social engineering"
Another source specifies that "the CpM is a work of social engineering by Aberchán. What he seeks is to keep the city. He goes as a holy man and uses religion. He calls non-Muslims white boys. Muslim brothers, don't vote for white people: that is the motto of CpM. What happens is that they are not effective. In other elections they started with 2,000 votes, then with 4,500… and now with 10,000: eight or nine councilors. What has happened to them in these elections is that the catchment network of votes they had have been made freelancing".
For the moment, as EL ESPAÑOL has advanced, all those arrested would belong to the lowest echelon of the organization, regulars in the world of drug trafficking in the city. They fulfilled the function of buying votes in exchange for amounts ranging between 50 and 200 euros. "And they came to CpM and said: I have a thousand votes and I have spent so much. But now they cost so much. And they were paid. And who paid them? and those below they sing bulerías. Because beware, you cannot buy the Moor: you can only rent it".
The agents now hope to reach the masterminds of the fraud. orchestrated by the CpM, a party considered by the intelligence services and by commanders of the State Security Forces and Corps consulted by EL ESPAÑOL as the political satellite of Morocco in the autonomous city. According to sources consulted in both spheres by this newspaper, CpM is a party with a notorious Moroccan connection and, therefore, the possible interference of Rabat in this episode of electoral fraud is not ruled out.
The police operation has been precipitated after the investigators detected an attempt to bribe Post Office officials in Barcelona, ​​who tried to buy them to extract the votes from Melilla and take them safely to the peninsula. It is not the first time of this modus operandi: The sentence that sentenced Aberchán in 2008, to which this medium has had access, considered as proven facts that the party "had contacts in the Postal Service that could facilitate access to the envelopes."
Follow the topics that interest you