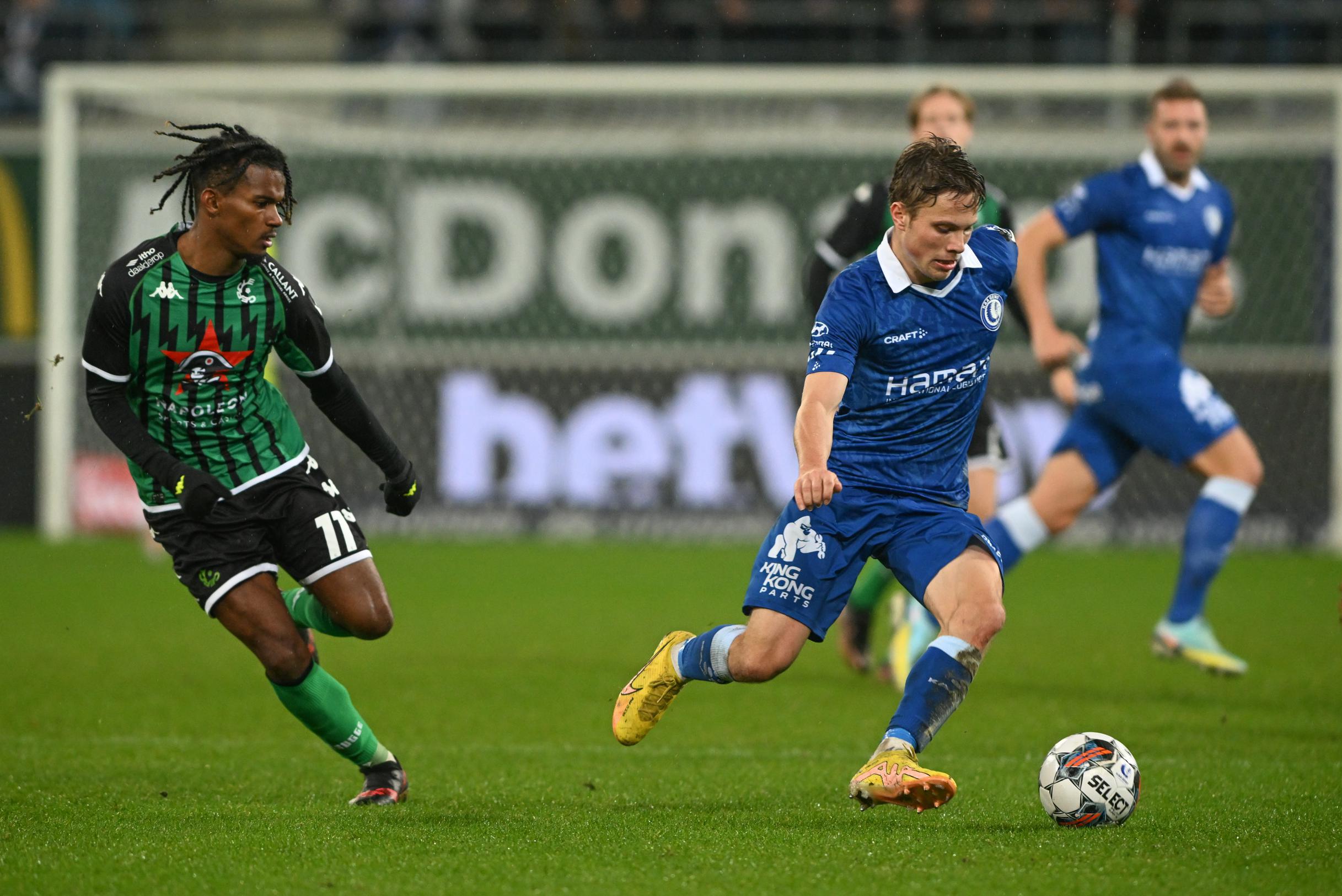 AA Gent continues to convert. With hanging and strangling, Cercle Brugge managed to beat 2-0 in extra time. Thanks to an excellent Paul Nardi, a strict red card and the contribution of Hauge and Fofana with which Hein Vanhaezebrouck went all-in in the slot.
From the World Cup in Qatar to the Croky Cup, it takes some getting used to. But the break came in handy for the Belgian teams, especially at AA Gent. Apart from the suspended Kums and the absence of Tissoudali, it was able to return to full strength. Although that was not at all apparent from the match against Cercle, the team that previously won 3-4 in the Ghelamco Arena.
After a smooth start, the home team got stuck again in the green-black dead end. Odjidja was not immediately in the game, De Sart was still rusty after his long absence. In the back they just couldn't manage to get under the pressure, so Nardi was even worked into nests. Cercle Brugge grew, saw Hotic narrowly miss aiming and scored an egg even after fifteen minutes. The Association cut through with a smooth combination, Ueda lost, the emerging Deman hit the post.
AA Gent was shocked, but there was no response. Only Salah slipped through sporadically, without becoming really dangerous. Chances were scarcer than the yellow cards Ghent received from Laforge. Torunarigha didn't get his foot enough against a free kick by Hong. And there was a ball from Odjidja for goalkeeper Warleson, who is preferred to Majecki in the cup.
Goal Hjulsager flagged off
Vanhaezebrouck kept De Sart in the dressing room – he already got yellow before half time – and brought in Hjulsager. He opened the score after a good attack over the right, but the Dane was flagged. A VAR does not have the Croky Cup yet, but on the bench at Ghent they saw that it may have been offside. The Buffalos initially looked a bit sharper in the second half, but it wasn't until after the hour that Warleson was really put to work. A great ball from Odjidja launched Cuypers, whose attempt at the short corner found the Brazilian in his way.
Cercle had the best opportunities to score. After a warning from Somers, narrowly wide, a cross from Hotic sailed past everything and everyone. Except for Somers, who showed up at the far post. A great reflex from Nardi and the post kept him from 0-1.
The more than half-empty Ghelamco Arena saw his beloved team too often fumbling in playing away football, even though Odjidja tried to direct his team. If the ball was then rushed forward – there was space in the back of an oppressive Cercle – Salah's substandard control also killed that attack. The Brussels Moroccan had to get off a little later, for Depoitre.
World rescue Nardi
Cercle, with its stiff defence, an active Hotic and dangerous Somers, lay in wait. Rightly so, if you saw how the Ghent back line radiated uncertainty again. Another deviated cross shot past Ngadeu, on which Denkey was able to press the 0-1 from close range. But then Nardi unleashed a world save against his former employer. Rotating with the goalkeeper in the cup like Cercle, Vanhaezebrouck did in the past. Not now. Don't blame him. It is thanks to Nardi that AA Gent made it to extra time.
The Association soon had to continue with ten. Olivier Deman, who already got yellow for a nasty foot on Salah, got a second yellow after an alleged sliding Samoise. A too strict decision, it seemed, but it changed little in the game image in that first extra fifteen minutes.
Until Vanhaezebrouck went all-in before the last overtime, with a triple substitution. With Mofana he opted for a three-man attack, Hauge and Hjulsager became the wingbacks. With result, because the 17-year-old attacker immediately had an impact. Thanks to him, Hjulsager was able to slip through on the right, but instead of passing Cuypers, he went for his own success. Warleson took. Hauge did not make that mistake on a new switch that Fofana had a foot in again. He did lose to Cuypers, but edged offside: 1-0. In a battle-weary Cercle, the spring broke. Fofana did even more: an attempt fluttered over Warleson via Decostere: 2-0. Nice for that other young talent. AA Gent pushes through to the quarter finals, but what an effort that took.
AA Gent: Nardi, Okumu, Ngadeu, Torunarigha, Samoise (106′ Fofana), De Sart (46′ Hjulsager), Hong (112′ Godeau), Odjidja (106′ Owusu), Castro-Montes (106′ Hauge), Salah (74′ Depoitre) en Cuypers
Bruges Club: Warleson, Ravych (112′ Kehrer), Popovic, Daland, Somers (118′ Decostere), Vanhoutte (106′ Francis), Hotic (98′ Miangue), Lopes, Deman, Denkey and Ueda (85′ Gboho)
goals: 109′ Cuypers 1-0, 119′ Fofana 2-0
Yellow cards: De Sart (offense), Castro-Montes (offense), Samoise (offense), Salah (offense), Hotic (offense), Deman (offense), Miangue (offense), Daland (protest)
Red cards: 93′ Deman (2x gel)
Spectators: 8.429
Referee: Nicolas Laforge