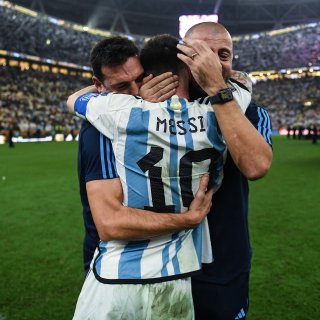 Simon Kuper is a British columnist for the Financial Times. He is the author of Soccernomics in The Barcelona Complex.
I experienced the World Cup from the first to the last day in Qatar. When I think back on it in decades, these are some of the things I will remember.
1. The work

On a typical day during the tournament, I woke up at about ten (after beating the last game the previous day) in my shared apartment in a mostly Indian neighborhood in Doha. I would then take my secure laptop (acquired from my UK newspaper to prevent anyone from stealing my information) to a nearby coffee shop to get to work over breakfast. After that it was a continuous research and writing, until it was time to order an Uber to the first game of the day. Later I took a press bus to the late game, which started at 10 PM. Between companies I tried to grab a bite to eat in a media center – the chicken biryani was very tasty.
The second game (and this was the first World Cup in which I managed to watch two games a day) ended around midnight. After a long wait in the subway station, I was finally able to squeeze into a carriage with fans from many countries. I was in bed around 2 am. I worked about 100 hours a week. But I just like football.
2. The stay

On a sweltering morning, in the first days of the tournament, I went to visit an assistant coach of the Argentina team, an acquaintance of mine. For some reason, the poor Argentines stayed in a former home for female students of the University of Qatar, a dirty white barracks-like building. Guest workers stood in the blazing sun, guarding the building as if it were a presidential palace. I was treated like a potential terrorist. After a long time on whatsapping with my friend, we were finally able to meet and talk for about ten minutes, in the shade at their practice field. He couldn't get out of there and I wonder if he saw anything of Qatar other than the roads to the stadiums throughout the tournament.
The stay is important as morale is a major challenge for all teams in the World Cup. Over lunch in Doha, a former England player who had taken part in several tournaments explained: many footballers don't actually like football. They like the money and the lifestyle but not the practice, the stress, the tactical talk and life in the dressing rooms. But in a tournament, there's nothing else like that, every day, all day long. The man told me that Ben White, the England defender who had officially left home "for personal reasons", had in fact collapsed under the stress and left camp without permission. White will never play for England again. He is an extreme case, but many players in this tournament had the same problems. It is to the credit of the Argentinian team that she did not let her sad stay be crushed.
3.Louis van Gaal

The best coach of the tournament was probably Louis van Gaal. I grew up in the Netherlands and this was the least talented Dutch team I've seen in 45 years as an Orange supporter. But Van Gaal, who is 71 and suffers from an aggressive prostate cancer, took them to all but one penalty in the semi-final.
In the course of the tournament he received the status of Dutch National Treasure. He felt free to be himself—perhaps because of his age and illness—in all his wonderfully clumsy, loving eccentricity. During a press conference, he kissed his defender Denzil Dumfries on the forehead. Another time he sat next to his attacker Memphis Depay and shouted: "I kiss him on the mouth". Memphis couldn't keep up with itself. We will probably never see Van Gaal on a podium again, but we will not forget him.
4. Messi vs. Weghorst

Already the grim quarterfinal of the Netherlands – Argentina, everyone saw the video of Leo Messi breaking off a television interview to yell at someone off screen – it was Dutch striker Wout Weghorst – "What are you looking at, dummy? Go back. Get out."
It was the first time we saw a Messi act like Diego Maradona. There's a story behind it. After a game that spiraled out of control on several occasions, with mutual taunts during the penalty kicks, the players – especially Virgil van Dijk and Nicolás Otamendi – continued to argue in the changing room area. An angry Messi went looking for Van Gaal and bumped into Weghorst in the tunnel, who asked Messi for his shirt. Messi responded by berating him. Later, during the interview, Weghorst looked angry. In fact, in the video we saw, Messi had already calmed down. He only called Weghorst "bobo," "stupid," a word a polite person might use in front of children.
5. Grant Wahl's death

During that match, about 40 yards to my left, I saw my American colleague Grant Wahl die. He suffered a heart attack just before extra time. Startled journalists in his neighborhood jumped up and shouted for help, paramedics rushed over. They tried to resuscitate Grant for half an hour. But when I woke up the next morning, I read on my phone that he hadn't survived.
Grant loved football. This is his last tweet, just after Weghorst's Dutch equalizer in the last minute: "Just an incredible designed set-piece goal." Perhaps his love for the game cost him his life. "Watching an exciting football game increases the risk of an acute heart attack by more than two," said a study on the 2006 World Cup in Germany. Imagine the effect on a middle-aged journalist who works 100 hours a week in Doha, eats alone in the stadiums and perseveres when his body begins to fail him, as Grant himself wrote. On the weekend he fell to his death, Khalid al-Misslam, a photojournalist from Qatar, was also killed.
6. Kane mist penalty

In the quarter-final between England and France, Harry Kane, the captain of the England team, had to take two penalties. Fatefully against the keeper who knew him best, Hugo Lloris. The two had played for Tottenham for nine years together. They must have practiced countless penalty kicks on the club's pitch in Enfield, in North London.
Days before a game, Kane decides where to place a penalty, if he gets one. He practices on it for hours, and then it's time. He shoots the first penalty against France into the right corner of the goal. But before the crucial second penalty, when France lead 2-1 with only minutes left, he has a problem: what to do the second time? Knowing that Lloris knows his usual strategy, he decides to try the hardest but also riskiest penalty: high and hard. He shoots over the bar. Kylian Mbappé smiles and France wins.
In international football, years of work hang by a thread. The biggest chance of Kane's generation to win a World Cup was lost to a penalty against the wrong keeper. That's how cruel World Cups are.
7. The puzzle pieces come together

When he hugged Messi on the field after the craziest final of a World Cup, Argentina coach Lionel Scaloni couldn't hold back his tears. "I didn't expect us to become world champions," said the short, neat, unassuming man later at the press conference. "But now we are".
While Messi has finally reached his destination, the best footballer winning the biggest prize, Scaloni owes his triumph almost to chance. He was an almost forgotten footballer who had played for his country a few times. During the previous World Cup, he was the assistant to the then manager of the Argentina team, Jorge Sampaoli. That tournament was a disaster for the Albiceleste. Kylian Mbappé, then 19 years old, made mincemeat of the team that went 4-3 in Kazan, Russia. Mbappé's 70-metre sprint, straight through the Argentine defense in seven seconds, earned him a penalty and made him world famous overnight.
After that fiasco, the penniless Argentine Football Association appointed Scaloni as coach, because he was cheap and they already employed him. It would only be for a while, until they found a real coach. It took Scaloni several months to find a tactical system, but unlike some more reputable coaches, he was not a narcissist and could listen to advice and change his mind. Messi's boyfriend since his teenage years, the elderly winger Angel Di Maria, who was initially kept out of the squad, kept calling to ask to be allowed to return. Eventually it did, even though he still didn't understand how a defense worked.
The pieces of the puzzle fell together. Last year Argentina became South American champion and Di Maria scored the only goal in the final against Brazil. Last Sunday, at the age of 34, he scored again in another final. He cried during the celebration, perhaps remembering the long years of disillusionment next to Messi in blue and white. Scaloni's side have lost just one of their last 43 games, their first World Cup encounter, against Saudi Arabia.
During the press conference, Scaloni thanked his family, his staff, his village. And he also talked about his country, which is now poorer by some standards than when he was born 44 years ago and where inflation is approaching 100 percent. "For Argentina, football is not just football, so we have to celebrate. This is just a game, life goes on and our country's problems will not go away."
Whatever he does with the rest of his life, this will always be his best night.
``