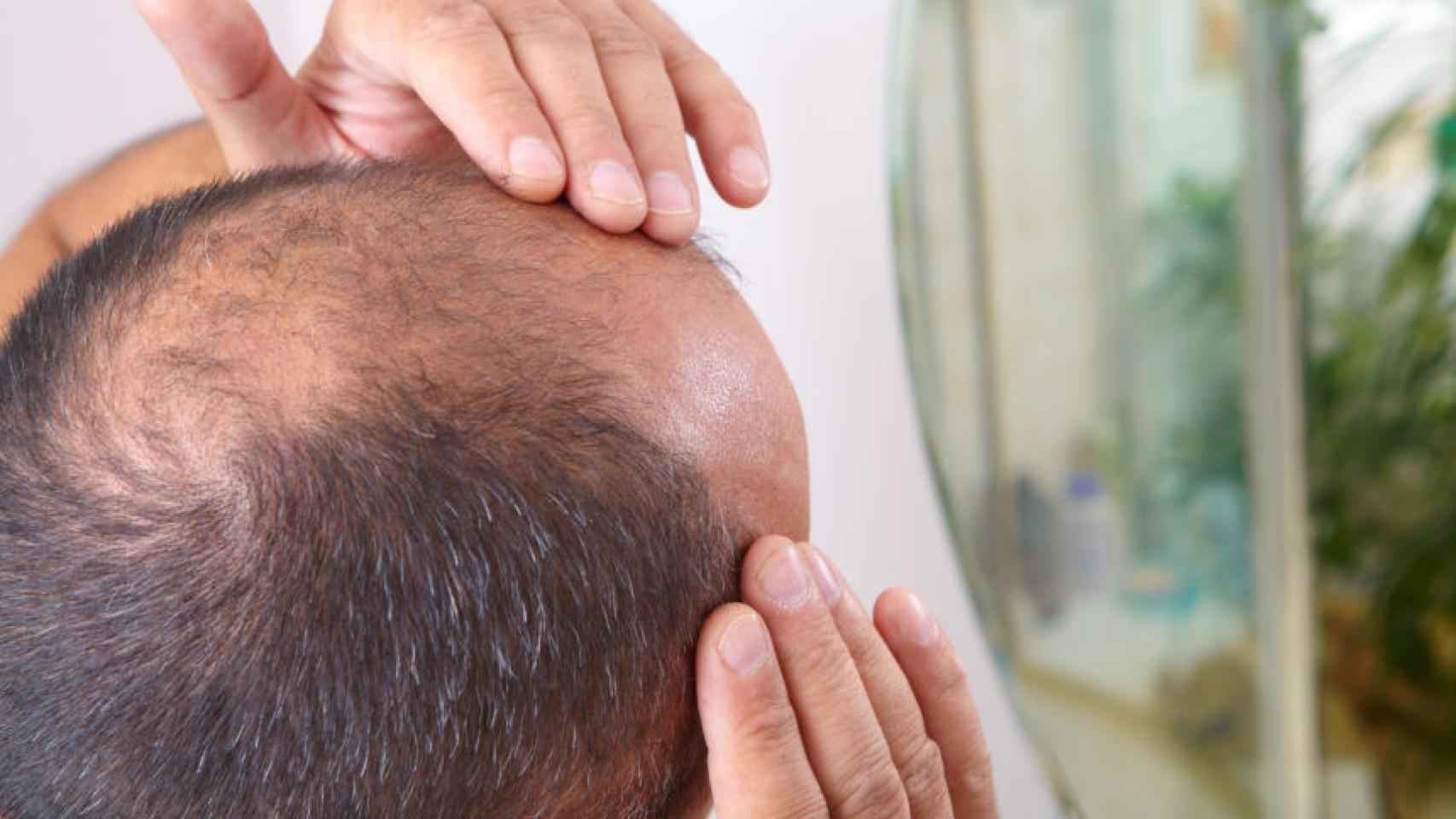 If hair loss is a sad moment for any man, now it is more justified than ever. A study in more than two million people has found an association between the use of finasteride, one of the most widely used drugs against male alopeciaand an increased risk of depression.
The work, which has been published in the journal JAMA Network Open, aims to clear up doubts about the adverse events of 5-alpha reductase inhibitors (known as 5-ARIs), which work by reducing the amount of dihydrotestosterone in the body. This hormone, derived from testosterone, is directly related to hair loss in men: it is responsible for up to 95% of cases.
There are two main drugs in this class. one is the finasteride, which reduces dihydrotestosterone levels by up to 70%. The other is dutasteride, which does 90% of it. Only the first is indicated for male alopecia, although both are used for the treatment of benign prostatic hyperplasia, where androgens also play a crucial role: their suppression achieves prostate reduction, avoiding the problems that can be caused by acute urinary retention.
[La nueva técnica japonesa que acaba con la calvicie y las canas: así cultivan pelo en el laboratorio]
The researchers, led by Miguel Garcia-Argibay, from Örebro University in Sweden, analyzed a cohort of 2.23 million Swedish men between the ages of 50 and 90. The period of analysis extended from July 2005 to December 2018: during that time finasteride was prescribed to 70,645 of them (3.2% of the total), and dutasteride to 8,774 (0.4%).
The intention of the authors was to verify if these drugs were related to an increase in adverse events of a neurological order, from cognitive decline and dementia to depression and suicidal ideation. These problems had already been detected in previous studies, although the results were not very convincing: these studies usually had a very small sample of patients, barely controlled for confounding factors, or did not carry out long-term follow-up.
Dementia, Alzheimer's and depression
This new work found a 61% increased risk of depression among finasteride users, and 68% in the case of those who had prescribed dutasteride, compared to those who did not. This increased risk was maintained over time.
On the other hand, higher risks were observed in dementia and Alzheimer's disease (up to 44%), but the difference with the control group was reduced to levels that were not statistically significant after four years of consumption. However, there was no relationship between the use of these drugs and the risk of suicide.
[La pastilla 'milagro' contra la calvicie que devuelve todo el pelo en menos de un año]
This decreasing risk, the authors suggest, may be explained by a possible increase in detection of dementia among patients with benign prostatic hyperplasia.
Finasteride, taken orally as tablets, is one of the two treatments indicated for male alopecia. The other, minoxidilit is a solution that is applied topically, directly to the hair. Dutasteride has only been used against baldness in clinical trials and does not yet have an approved indication.
In recent decades, a low androgen level has been associated with difficulty maintaining concentration, brain fog, or impaired memory. One hypothesis is that 5-ARIs reduce the synthesis of neurosteroids and neuroactive steroids, which play a key role in memory and mood.
The authors value the sample power of their study thanks to the use of a cohort of more than two million men and access to histories, as well as a mean follow-up of more than 13 years.
The limitations of the study are linked to the use of records, where there may be errors or inaccuracies in the classification of diseases, as well as the lack of statistical power to extract conclusive results on some issues, such as suicide. For this reason, García-Argibay's team points to the need for more studies to determine the effect of 5-alpha reductase inhibitors beyond their therapeutic effect.
Follow the topics that interest you