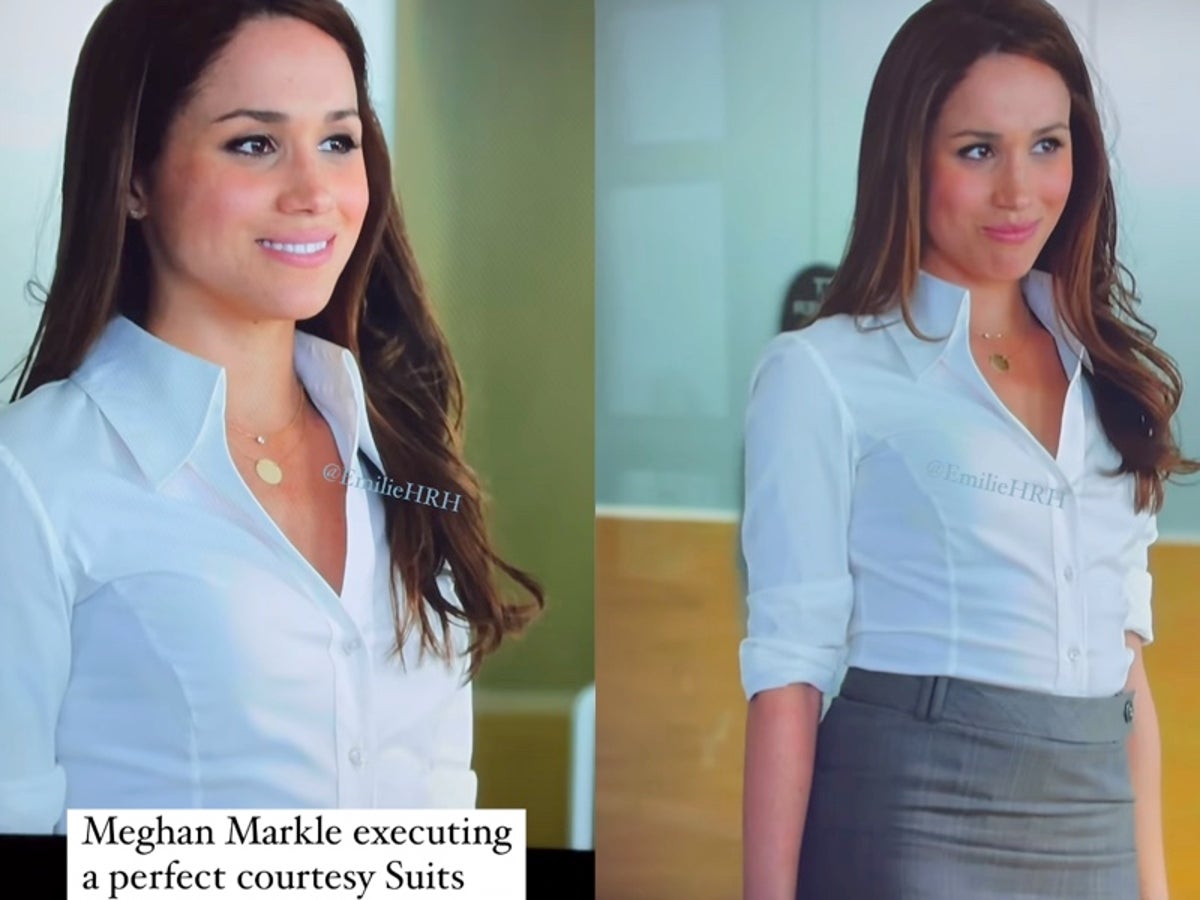 A scene resurfaced showing Meghan Markle bowing in suit after the documentary series of the Dukes of Sussex on Netflix, harry & meghanin which the Duchess jokes about having to curtsy to the late Queen isabel II.
In the second episode of the highly anticipated royal couple docuseries, Meghan remembered their first meeting with the grandmother of prince harry shortly after they started dating in 2016.
Meghan said that she was not prepared to be introduced to the British monarch and recalled that while they were on their way to the meeting, Prince Harry asked her if she knew how to "curtsy".
"We were in the car and he asked me, 'You know how to bow, right?' and I just thought it was a joke," the duchess admitted.
She then appears next to Harry on the interview couch and recreates the dramatic bow, bowing her head and spreading her arms. The clip received mixed reactions of viewers, who called the bow "disrespectful and offensive" to the late queen.
Now it's gone viral video showing Meghan Markle curtsying like her character Rachel Zane in suitthe television series he starred in before joining the Royal family.
The video, that the fan of royalty @emiliehrh shared on Instagram, shows Meghan taking a quick curtsy during one of the early seasons of the legal drama.
"Remember when Meghan Markle told Oprah that she had no idea what a curtsy was, and lied again in the Netflix documentary, and mocked the queen with the 'medieval times' comment?" he wrote in the critical publication. "Here she is at @suitspeacock a few years ago performing a PERFECT CURVESSING."
Meghan Markle had revealed during her televised interview with Oprah Winfrey that she didn't know she had to curtsy in front of the queen. The mother-of-two herself said she was baffled to have to curtsy, considering the monarch was Prince Harry's grandmother.
On December 15, Netflix premiered all six episodes from the Duke and Duchess of Sussex docuseries, Harry & Meghan. Throughout the series, Prince Harry and Meghan condemned the media treatment of the Duchess, blamed the court case on the Email over Meghan's miscarriage and claimed Prince William "screamed" at Prince Harry in a "terrifying" fight at the Sandringham estate amid what became known as "Megxit".
For her part, Meghan said she was "shocked" about the formality of the royal family, which occurs even behind closed doors. In episode two, the Duchess described the first time she met the now Prince and Princess of Wales.
"When Will and Kate came over, and I met her for the first time, they came over for dinner," she recalled. "I remember that she was wearing ripped jeans and she was barefoot. I like to give hugs. I've always liked it, I didn't realize that's really jarring to a lot of Brits. I guess I started to understand pretty quickly that formality on the outside was carried out on the inside. You have to be formal in front of the others, and then you close the door and say, 'You can relax now,' but that formality is maintained on both sides. And that surprised me."
Translation by Michelle Padilla